Click Here for larger pictures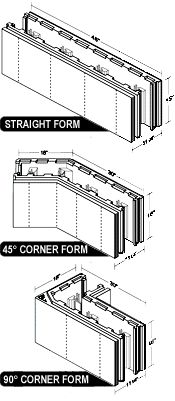 Click Here for larger pictures
Improving ICF Construction!™
With the Development of the Modified Flat Wall ICF System
See Compare Us
The Exclusive Standard ICF™ Modified Flat Wall System is flexible and conforms to a wide variety of standard design and building practices. The strong modified flat wall form design prevents racking, withstands concrete pressure, and minimizes bracing requirements.
The continuous fill height 1 5/8-inch wide x 12-inch on-center studs combined with the

exclusive

3-inch wide full height corner brackets provide an excellent structure for attaching interior and exterior wall covering and finish materials.
The unique modified flat wall design of the quality molded EPS foam panels with a density of 1.5 lbs net cured weight have a combined R-26 thermal resistance.
The durable tongue and groove jionts and

exclusive

interlocking alignment system simplifies installations and withstands the lateral pressure of concrete.
The

exclusive

modified flat wall interior cavity allows for easy concrete flow while using 4% less concrete than 6-inch and 25% less concrete than 8-inch flat wall systems.
The uniformly marked recessed stud system and

exclusive

convenient electrical chase provide for easy installations by electricians and other sub-contractors.
The

Exclusive

Modified Flat Wall System can be easily cut-in-half horizontally, without compromising form strength, to accomodate wall heights; and 4-inches can be cut-off the top to meet structural and design requirements.